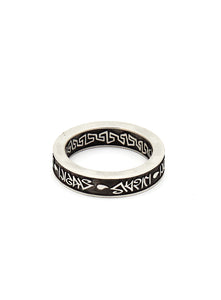 Reflecting Vasili Drunk banded ring
Sale price

$134.99

Regular price
Please introduce yourself to the banded silhouette of rings and enjoy the multitude of combinations made by Vasili and his originally engineered signature details.
Here is the Reflecting Vasili Drunk banded ring, whose outer surface is defined by bordered, embossed, reflected script detail, and whose inner shank is the bordered, embossed Drunk Greek pattern. Vasili must not be unique in his tendency to self-reflect whilst in a drunken state, but he certainly spends most of his time in New York....
If you're into mirrors, reflecting, or just like the idea of text written in secret code, you'd probably enjoy having this ring on your finger all day every day. People will ask you "what does that say?" and you could tell them whatever you want!
These rings are sturdy, stackable, yet substantial enough to be worn alone.
Comprised purely of .925 Sterling Silver